E48EDD4B-95BB-41AD-8A65-782F5B209C66
Sean Dempsey
Sean Dempsey moved to New Hampshire as one of the first 100 'Free Staters.' He supports unabashedly shouting the liberty message from the rooftops. No pale pastels; Sean believes Libertarians need vibrant and bold messaging and that the freedom message is not something by which to be embarrassed.
http://loudcanvas.com
Related Articles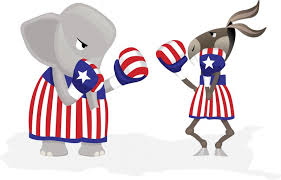 DEFINITIONS Democrats: A left-leaning political party full of bleeding-heart pansies who are all high on the devil's lettuce. Republicans: A right-leaning political party packed with rednecks who love guns and God, in that order. ORIGINS Democrats: The Democratic party was founded as the dying wish of Karl Marx in 1883, who wanted to infiltrate the […]
This is the man who convinced me of rightness of libertarianism roughly 6 years ago.
The following article ends up by making an important point regarding the famous Ken Burns documentary on the Civil War: "Watching the film, you might easily forget that one side was not fighting for, but against the very things that Burns claims the war so gloriously achieved. Confederates, you might need reminding after seeing it, […]